Skip Navigation
Website Accessibility
Stained Glass, Fusing and Tool Supplies
We are Nevada's largest supplier of stained glass and fusing supplies. We have 1400 varieties of glass and a complete selection of glass working tools and books on related topics.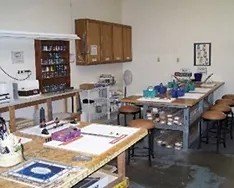 Our Classes
We currently teach 15 different stained glass, mosaic, fusing classes. We have a dedicated class room that can accommodate up to 12 students. Our personalized one on one methods are designed to enhance your learning experience.
Restoration and Repair
We are currently not accepting any new repair work. We are happy to refer you to a qualified stained glass repair specialist.
Custom Stained Glass Windows
If you are looking for a custom stained glass window design to meet a specific need, backed with professional workmanship, then you are looking for Glass art Studio. Since 1985 we have been producing beautiful and practical window and door designs for residential and commercial users.
Glass Art Studio
We are pleased to provide you with a look at our store and let you know about our glass crafting, mosaic, bead making, hot glass, fusing supplies, classes and services. We repair stained glass pieces, and we take great pride in the designing and building of new glass windows and panels. Please look around. If you have any questions please feel free to call or email us. We are here to make your glass crafting fun and exciting.

Contact Us by Email